November 25th, 2014 by admin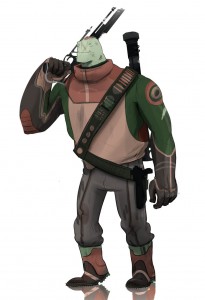 Dragonlaird Gaming presents Savage Characters Volume 1
RPGs and Savage Worlds are all about the characters. Whether you're a Gamemaster or a Player, there are times you need some inspiration. Savage Characters Volume 1 brings you twenty fully developed, rich characters to inspire your adventures and campaigns.
There are five characters in each of four Dragonlaird Gaming settings which can easily be used in similar genres: Fantasy, Haunted West, Modern Horror, and Space Opera.Each character is presented with a full body color portrait, history and description, stats including a complete 100 point build ladder, and five adventure hooks, one for each rank. The characters have ties together you can leverage whether they are allies or enemies. In addition to the characters there is a teaser for each setting walking through some of the key aspects of the setting and the flavor of it. This includes a large piece of art and several detailed locations ripe for adventures and scenes.
The product is available for reviews and the author is available for interviews.