Publications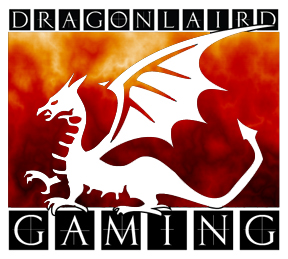 Savage Characters Volume 1
At the heart of all role-playing games are the characters: the villains and heroes, the colorful confidantes and nefarious tricksters. Beyond technology or trappings, characters make a setting, a campaign, or an adventure really come to life. Good original characters are also time-consuming to make and require a good dose of inspiration. Cardboard "stock" characters have their place but you really need a few memorable, detailed personalities to make your game rock.
That's why Dragonlaird Gaming made its first publication all about the characters. We chose four popular genres to which all gamers can relate: the haunted west, fantasy, modern horror, and space opera. We then developed the core concepts of original settings around those four genres which we plan to expand in the future. While the characters are defined in these DLG settings it was important for them to be easily portable to other settings in the same genres.
In Volume 1, we present twenty characters, five in each genre. Each character is defined with full body color art, stats and a Novice to Legendary build ladder, description and history, and five adventure hooks – one for each rank. Their adventure hooks intertwine but can easily be used on their own. The characters can be used as PCs, villains, allies, or other major NPCs. In addition to the characters, there is a teaser for each setting walking through some of its key aspects and flavor along with artwork and locations.
Some of the characters in the book are:
Dark Ages & Dragon Gods: A beautiful traveling noblewoman hides a secret life as the larcenous Lady of Red Silk. Out of love, a grizzled mercenary from Moorish Iberia keeps the noblewoman safe. A priest of the Dragon God with a secret carries out the will of the Roman Draconic Church.
Demon Streets & Made Men: A nightmare from another dimension controls one of the Five Families and plots to consume New York City into a soulless Hell. A hideous creature skulks in shadows, influencing minds and enacting the schemes of its master. A Catholic made man for the Romanos learns of the growing darkness and vows to protect his city from Satan.
Ghost Lands & Sixguns: A mad scientist performs twisted experiments in a hidden lair in the Sierra Mountains. An American Black Bear is awakened by weird science and takes up a gun as an outlaw. A heartless thug uses violence and dirty schemes to rule the town of Miasma Springs.
Theta Ships & Iron Men: A disgraced captain of the Royal Stellar Navy hunts the creature who stole his flagship from him. An alien bounty hunter burdened with a rigid moral code travels the Galaxy after criminals. A spy for the ancient Spironetti Empire has secrets that will rock the foundations of her own people.
Published by Dragonlaird Gaming. Available now from Drive-Thru RPG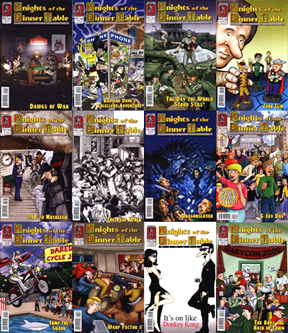 I got my start with Knights of the Dinner Table Magazine from KenzerCo back with their special double-sized issue #100. Since then I've written over 60 articles for the magazine focusing on how to find inspiration from movies and television and general articles of Gamemastery. I've also published three adventures in their pages. I was happy to contribute to their 200th issue and plan on being there for the 300th!
GAMING THE MOVIES Column published regularly in Knights of the Dinner Table Magazine

Peaky Blinders (#264)
Crossing Lines (#261)
Taboo (#260)
How It Ends (#259)
Island at War (#258)
Terminal City (#254)
Fortitude (#253)
Steve Canyon (#252)
Lucy (#251)
Killjoys (#250)
Jonathan Strange and Mr. Norrell (#246)
The Last Ship (#244)
Hell on Wheels (#242)
Longmire (#241)
Heartland (#231)
Haven (#230)
Sneakers (#218)
Mr. Selfridge (#211)
Safe House (#209)
Mad Max (#203)
Boondock Saints (#198)
New Tricks (#190)
Battle for Los Angeles (#188)
Beowulf (2007) (#187)
The Postman (#186)
Horrible Bosses (#182)
Pillars of the Earth (#176)
The Brothers Grimm (#174)
Secret Adventures of the Bible (#173)
Odyssey 5 (#172)
Terriers (#171)
El Mariachi Trilogy (#170)
Planet of the Apes Franchise (#169)
Adventures in Babysitting (#168)
Inception (#167)
Three Days of the Condor (#166)
Sergio Leone Westerns (#165)
Monty Python and the Holy Grail (#164)
Wild Geese (#163)
13th Warrior (#162)
Johnny Mnemonic (#161)
Burn Notice (#160)
Mars (#159)
Underworld Trilogy (#158)
Rosemary & Thyme (#157)
Ghostbusters (#156)
Sky Captain and the World of Tomorrow (#155)
The Shield (#154)
Pirates of the Caribbean (#153)
X-Men (#152)
Apocalypse Now (#151)
Alien (#150)
Tarantino Flicks (#149)
Band of Brothers (#148)
Forbidden Planet (#147)
Indiana Jones (#146)
Death Race (#145)
Mystery Men (#144)
Buckaroo Bonzai (#142)

GAMEMASTERY Column published regularly in Knights of the Dinner Table Magazine

Beyond the Five Senses (#261)
Fever Dreams (#260)
That Old Devil Moon (#255)
Words to Live By (#248)
Getting the Gang Back Together (#247)
Happy Holidays (#240)
In the Court of the Khan (#238)
Thunder and Lightning (#232)
People are Stranger when you're a Stranger (#225)
Welcome to Ramshackle (#221)
She Loves a Man in Uniform (#216)
When the Battle isn't on a Field (#206)
Finding the Horns of your Dilemma (#200)
On the Roads of Silk and Spice (#197)
Finest of the Finest (#196)
Planning for Campaign Greatness (#195)
Five Keys to Cities with Personality (#194)
What's in their Pockets? (#193)
Gimme that Old Time Religion! (#189)
Is that a Dagger in your pocket or are you just glad to see me? (#183)
So you want to Play Heroes? (#136)
Taking Death Seriously (#135)
Making the Most of Your Skills (#???)
Time is on your Side (#114)

GAMING THE MOVIES ADVENTURES published semi-regularly in Knights of the Dinner Table Magazine

Snowpiercer! (#225)
No Highways for Old Men (Mad Max) (#222)
Outpost (#191)


"All I Really Need to Know I Learned from Firefly", published in Issue #100 of Knights of the Dinner Table magazine. 7,200 words of advice for gamemasters based on lessons from the short-lived TV show, Firefly.

Available now from Kenzer Co

Spine Tingler Adventure for Retribution Setting: Fair Wind or Foul

Ghosts are haunting the pirate haven of Hiddenwater! Admiral Fairwind's evil past has come back for Retribution and it is up to our heroes to put a stop to the killing. 3,300 words.

Published by Obatron Productions. Available to backers of the Kickstarter.

Thrilling Tales 2e: Pulp Villains – Count Shadau

EVIL FROM THE DARKEST CORNER OF EUROPE! Deep in the heart of Romania, where empires have clashed for ages and many powers have left their traces, a corruption is growing. A master of dark arts and in possession of a relic of stunning power, Count Shadau's web of in influence and allies reaches out its tendrils, planning first to seize Romania. As turmoil and fascist strains slither through Europe, he will take power wherever he can and weave his vision of Greater Romanian domination of the continent under his rule as Emperor. His secret grip tightens… and the world cries out! 4,000 words.

Published by Adamant Entertainment. Available at DriveThruRPG.

Three Adventures for the Guild of Shadows Campaign Setting

'Kurstwahl's Eleven' is a highly challenging non-linear adventure where your party takes on the most prestigious gambling hall in Kurstwah – The Kurstwahl Diamond. Full of great NPCs and a variety of key locations with full maps, this adventure provides great detail for the GM to run a memorable action mystery! 'Kurstwahl's Eleven' is suitable for a party of any combination of rogues. This adventure requires both the Savage Worlds rules as well as the Guild of Shadows campaign setting.

'The Initiates Path' details an exciting introduction for new members of the elite Guild of Shadows. The skill and ingenuity of new guildsmen is tested in this open-ended adventure, which is suitable for a party of any combination of rogues. This adventure requires both the Savage Worlds rules as well as the Guild of Shadows campaign setting.

'The Viper's Nest' adventures pits your party head-to-head with a rival guild in the city. This open-ended adventure provides ample opportunity for different thief archetypes to exercise their skills as they investigate a plot and eventually expose a rival guild! 'The Viper's Nest' is suitable for a party of any combination of rogues. This adventure requires both the Savage Worlds rules as well as the Guild of Shadows campaign setting.

Published by SPQR Games. Available at DriveThruRPG.

Adventure Havens: Temples is a collection of twelve 'adventure seeds' complete with descriptions, story hooks, fully d20-statted NPCs. The temples are divided into Wilderness and City temples and attempt to stretch the typical notions of temples in fantasy campaigns. Your heroes might find the Contemplative Temple of Silence a refuge, at least at first. The Traveling Temple of Twisted Fate could wander into the village they are resupplying in, offering a few days of entertainment and distraction. Darker encounters are there as well. Encounters are defined for each temple offering a range of CR values to give any adventuring party a challenge.

Published by Bards and Sages. Available now from Drive-Thru RPG

Serenity Big Damn Heroes Handbook


"Written and Designed by" credit. Contributed to several chapters of the book including "The Way It Was" summary of the Serenity movie.

UPDATE! Serenity RPG has won the Gamer's Choice Award for Best Role-playing Game Supplement at Origins 2009!

UPDATE: All Serenity and Battlestar Galactica products are out-of-print as of February 1st, 2011 due to license expiration with the publisher, Margaret Weis Productions. Look for them at your local gaming store or nearest convention this year if you want to pick up a copy.

Cortex System Roleplaying Game
Gamemaster Chapter and more.


"Additional Design by" credit. This book presents the Cortex System RPG rules developed through the Serenity and BSG games as a standard system for use with multiple genres. Fantasy, Modern Crime Drama, and Galactic Fantasy genres are discussed within the book. My Game Master chapter was 13,000 words written to requested outline by the deadline (interval of 20 days). No content was reused from previous efforts.

Published by Margaret Weis Productions. Available from DriveThru RPG

Serenity Roleplaying Game
Adventures Book


Wrote one of five adventures in the book (other authors are Jim Ward, Ted Reed, Alana Abbot, and Billy Aguiar). My adventure is an enhanced version of the adventure I wrote for the 2005 Gen-Con Premiere of the game. 20,000 words delivered within a 3 week deadline.

UPDATE: All Serenity and Battlestar Galactica products are out-of-print as of February 1st, 2011 due to license expiration with the publisher, Margaret Weis Productions. Look for them at your local gaming store or nearest convention this year if you want to pick up a copy.

Battlestar Galactica Roleplaying Game
Quickstart Guide


"Written and Designed by" shared credit with Jamie Chambers and Nathanial C.J.S. Rockwood. My contribution was "The End and the Beginning", the included adventure, which fills 24 out of 32 total pages in the guide. 28,000 words written, playtested, and delivered in three weeks. "The End and the Beginning" is a four character adventure set during the Cylon attack on the Colonies, suitable for starting a campaign.

The Quickstart Guide was published first in preparation for the premiere of the full Core Rules book at Comic Con 2007.

UPDATE: All Serenity and Battlestar Galactica products are out-of-print as of February 1st, 2011 due to license expiration with the publisher, Margaret Weis Productions. Look for them at your local gaming store or nearest convention this year if you want to pick up a copy.

Battlestar Galactica Roleplaying Game
Core Book


One of the six writers to author the book. My contribution was Gamemaster's Chapter, additional NPCs, and tie-ins to other chapters. 32,000+ words delivered on time. The Battlestar Galactica Roleplaying Game debuted at Comic-con 2007.

UPDATE: All Serenity and Battlestar Galactica products are out-of-print as of February 1st, 2011 due to license expiration with the publisher, Margaret Weis Productions. Look for them at your local gaming store or nearest convention this year if you want to pick up a copy.

Serenity Role-Playing Game


"Additional Design on the Serenity Role-Playing Game", released August 18, 2005 at Gen-Con Indianapolis. Original author of the Gamemastering chapter. 17,400 words delivered in 11 days. Visit the official Serenity RPG website.

UPDATE! Serenity RPG has won the Gamer's Choice Award for Role-playing Game at Origins 2006!

UPDATE: All Serenity and Battlestar Galactica products are out-of-print as of February 1st, 2011 due to license expiration with the publisher, Margaret Weis Productions. Look for them at your local gaming store or nearest convention this year if you want to pick up a copy.

Roleplaying Tips e-Newsletter
Guest Columnist.


12 Disasters in Fantasy Campaigns is a look at how to incorporate broad-scope natural disasters in the background and stories of your campaign.

Available for FREE now from Roleplaying Tips